Managed Services Support
Cut Down 50% of Incidents With Our Proactive Root Cause Analysis (RCA)
Extend Your Capabilities with a Reliable EBS Support Team
EBS managed services are all about having an optimal cost of ownership for your Oracle EBS and Integrated Applications. As the complexity of the solution increases, the costs and overheads increase. Engaging an ERP managed service provider alleviates associated business challenges like managing complex, time-consuming, and resource-intensive operations around your EBS system.
With our 20+ years of expertise, we provide EBS managed services to small, medium, and large enterprises by understanding their unique challenges, providing optimal coverage, and following the ITIL-based incident management process.
As a reliable global presence having an onshore/offshore and blended delivery model, CES ensures minimal cost and disruption to your business to help you meet your application support. Every engagement we undertake is rooted in the process of continuous improvement where we seek to:
Eliminate repeat fixes
Minimise technical debt
Maximise system resilience
Proactive support
Lower the TCO
Promote benefits realization
Maximise the return on your EBS investments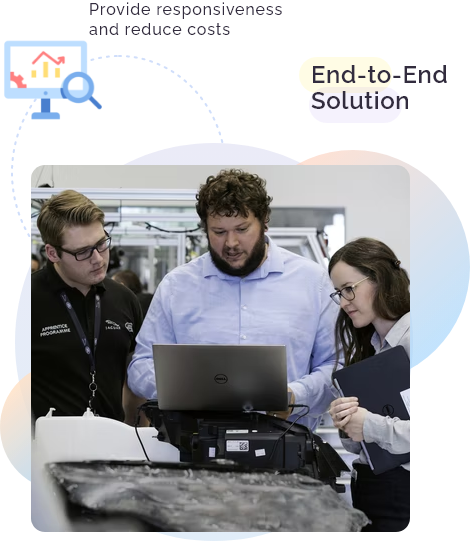 Have an optimal EBS support capacity, reduce costs, and drive strategic priorities
CES ERP Managed Services come to your rescue if you don't have the time or internal resources to support and manage your EBS system. We identify, deter, and fix issues before they become a problem and optimize your processes to provide responsiveness throughout the lifecycle of your ERP system and reduce the costs.
We bring a holistic approach to managing EBS applications, providing an end-to-end solution covering all aspects and challenges of EBS management. Our flexible managed service approach and experienced EBS consultants enable you to consolidate all your support requirements with a low-cost, Flexi-engage service delivery model that adapts to meet the evolving needs of your business. Our support plan is tailored to your unique requirements, including an agreed level of core support, appropriate SLA, and additional services.
CES Oracle EBS Managed Services
Complete Expertise
Our Seasoned Oracle EBS support delivery team act as an extension of clients' IT organization with 20+ years of Oracle EBS Support services experience.
Full Coverage Support
We follow a structured and proven method where our knowledge transfer coextends shadow support, ensuring seamless, responsive support.
Value for Money
CES Oracle E-Business Suite support services help you avoid rising contract costs by offering flexible contract terms while cutting maintenance fees by about 60%.
Support
24/7 Oracle Database Support
Functional Support
Technical Support
Integration Services Support
Server OS Support
Need basis enhancement development and developmen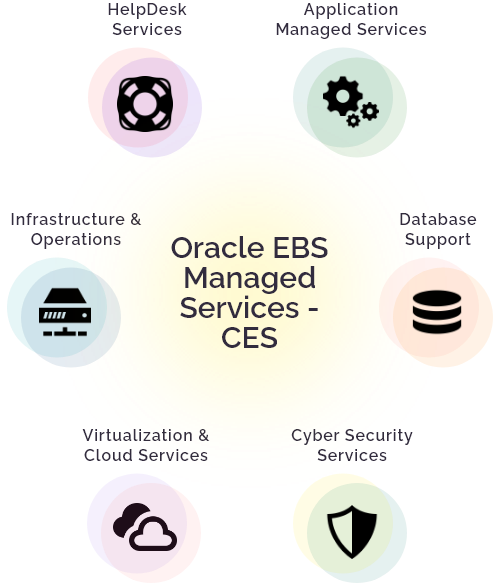 Our Portfolio of Cloud Services
CES as your reliable Oracle/SaaS Cloud Implementation partner
Capacity Based
Through this premium delivery model, we offer a dedicated team with an FTE-based billing. You can benefit from an ongoing steady team having a deeper knowledge of your unique business processes and application configurations to deliver faster and better technology solutions.
We provide best-of-breed industry SLAs with optimal performance levels, solution stability, and minimal downtime.
Retainer Based
The service is based upon a dedicated time for a distinct skill-set and niche application skills.
The service gives the customer support team the necessary assurance of getting application support without tying up dedicated resources.
With this service, customer has assured support reducing business disruptions.
Pay-As-You-Go
A flexible managed service model, which leverages our right-shoring approach. An optimal choice to extend your capability for ad-hoc capacity.
CES supports customers worldwide in every time zone, including 24/7 access to a global pool of experienced and expert resources.
Get a tailored roadmap for your EBS Managed Support Services. Use our expertise to help you!