EBS Implementations
Global EBS Implementation and Rollouts to Improve, Strengthen and Support Business Processes
CES Oracle EBS Implementation and Rollout Services
With an extensive experience in total end-to-end lifecycle executions and implementation of Oracle E-Business Suite (EBS), CES offers value-added niche services in EBS Implementation/Rollouts, Upgrade, Maintenance, and Support. We provide Oracle solutions and expert recommendations optimal to each phase of your project life cycle success.
Oracle EBS as a comprehensive platform gives access to complete business intelligence consisting of a 360-degree perspective on your funds, customers, and supply chains, enabling you to improve efficiency and accessibility and streamline/ automate processes. By adopting the Oracle AIM methodology, we provide the tools required to plan, conduct, and control project steps to implement business solutions effectively. A precise understanding of the business requirements during the course of implementation helps you stay ahead of the competition and innovation.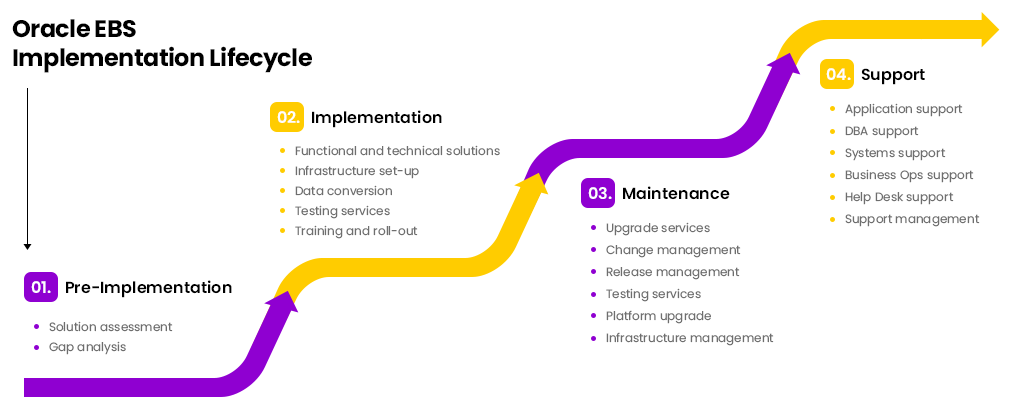 Our expertise includes servicing small, medium, and large enterprises by understanding the unique challenges, mapping different functionalities, developing a feasible solution roadmap, following best industry practices, and implementing a scalable methodology. A reliable global presence having an onshore/offshore and blended delivery model ensures minimal cost and disruption to your business to help you meet your on-schedule/ on-budget objective.
Our Oracle EBS Services Are:
Global Oracle E-Business Suite (EBS) Implementation
Oracle EBS upgrade and execution
Integration with Fusion Middleware and configuration
Application management & support
Oracle EBS customizations and more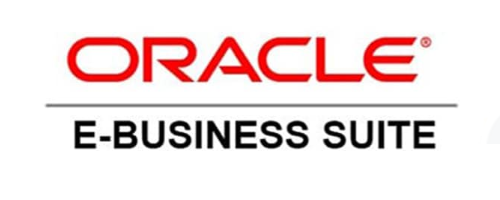 A Scalable EBS Solution That Fits Your Needs
Handling complex execution that needs to be deployed in phases with distinct requirements, CES has implemented multi-country EBS rollouts for various functionalities. Our scalable execution on the latest upgrade versions allows your business to lessen costs and peak performance. We have helped customers with wide-ranging capabilities that include the following implemented modules:
Financials AR/AP/GL/FA & Cash Management
Supply Chain / OM / Pricing / Inv / WSH / PO/WMS
Manufacturing/WIP/BOM/Engg/Costing
HR/HRMS/Core HR/Benefits/Payroll
CES Oracle EBS Implementation Advantages
With 20 years of strong Oracle domain know-how, CES possesses rich knowledge of business cycles of Financials, Supply Chain, Manufacturing, Customer Relationship Management, and Human Resource Management. To increase efficiency, drive TCO reduction, minimize risk, speed up problem resolution, optimize user experience, and more. So why should you choose CES?
Start to finish capacities across the lifecycle of Oracle R12, Oracle Cloud (Financial, Procurement, and HCM), and Oracle Edge Applications.
Global Template & Scalability
All-around engagement with executing huge Oracle change commitment (multi-country executions, process solidification, long-term application backing, and support). Broad involvement with planning, creating, and overseeing half and half Oracle conditions.
Quicker implementation time with rapid new module additions. Vast portability contributions and cloud joining administrations that empower your digital venture. Our proven accelerators and solutions frameworks aid in shortening the implementation cycle by 30%.
Accelerated implementation
Drive TCO reduction to 25-30% by having informed decisions through analytics to gain cost insights on where to allocate budget with accurate cost attribution. 
Additional user training, knowledge transfer, and 24X7 post-go-live and ongoing Oracle application management support deliver an accessible and flexible technical environment that empowers end-users to manage change quickly and efficiently.
Our specialist advisors identify areas where you can drive innovation and enhance your current processes following requisite statutory compliance.
Leverage business benefits with the absolute accurate insights derived in real-time for business processes, customer support, service & eCommerce for your strategic advantage.
Worldwide Alliance with Oracle as a Platinum Partner.
Whether Module Implementation, Hybrid Implementation, Or Full-Fledged Rollout, Get An EBS Solution Tailored To Your Needs.