CashTrax
Cash reconciliation, scheduling and productivity - Simplified, streamlined and standardized
What can CashTrax do?
Know your cash position with the banks by reconciling daily.
Web, mobile or cross-platform options for reconciliation.
Reconcile from anywhere with our web or mobile software.
CashTrax Cash Reconciliation solution improves the speed, accuracy, and reliability of the reconciliation to adjustment process by automating your routine and high-volume transactional processes. Through configurable, rules-based certification and matching workflows, controlled roles-based access, and automated journal validation, creation, and posting, organizations are able to put an end to mundane tasks and enable teams to apply their valuable skills to larger issues that support strategic business objectives.
Leaders can continuously monitor and evaluate performance to drive further process optimization by leveraging a combination of data and process standardization, embedded internal controls, and real-time reporting and dashboards, accounting and finance. CashTrax manages: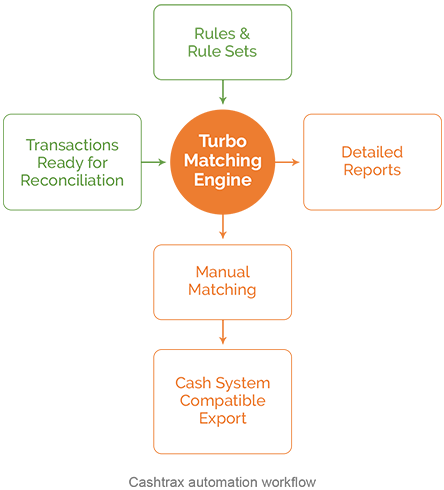 Key Features
CashTrax is designed and optimized to provide a streamlined reconciliation process that's fast, accurate, and comprehensive.
| | |
| --- | --- |
| Fund/Legal Entity Setup | Set up new funds within minutes |
| Reconciliation | Turbo match high-volume transactions |
| Break Management | Collaborate and resolve quickly |
| Automation | Automation of interfaces with Geneva |
| Workflow Management | Set up, assign and monitor reconciliation tasks |
| Management Dashboard | Real time status of reconciliation |
| Notifications | User specific notifications and reminders |
| Interfaces | Works with any external systems without any programming |
| Security | User and Role based security |
| Share | Email reconciliation and break reports to outsides |
| Reports | Customized report formats |