Commercial & Industrial
Offering robust Digital Platforms & Services to enable enterprises for digitalization, efficiency, microgrid, and net zero.
Commercial and Industrial (C&I) customers are working towards their own set of Net Zero corporate goals, and it is challenging to build or modify their green/brownfield assets (buildings, factories). C&I can deploy a limited amount of RE within their premises that may meet 20-50% of their demand requirements, with direct usage or by net metering.
Energy efficiency is also at the center of energy management at C&I.
Across DER and demand, C&I customers need a flexible and adaptable microgrid solution and service to take complete control of efficiency and net zero.
C&I customer criteria for energy microgrid are as follows:
Build and continuously improve the efficiency of present assets bringing efficiency into their largest loads and consumption

Buildings have heating and cooling, EV charging, data center, UPS, 24×7 operations,
Industrial demands vary based on their production schedules and equipment needs.

Add renewable with assets deployed locally or buy RE power from remote plants.
Observe ToD pricing from the local utility and its impact on their own consumption/ conservation.
Achieve low energy bills per month by managing the local generation and consumption patterns
For manufacturers, Industry 4/5 digital needs are:
Digitalization of assets like equipment, subsystem, floor, process, and product.
Asset maintenance and reliability metrics to the center stage to ensure equipment longevity, and best maintenance, with lesser O&M costs.
Microgrids cover Energy efficiency, net zero, and energy transition.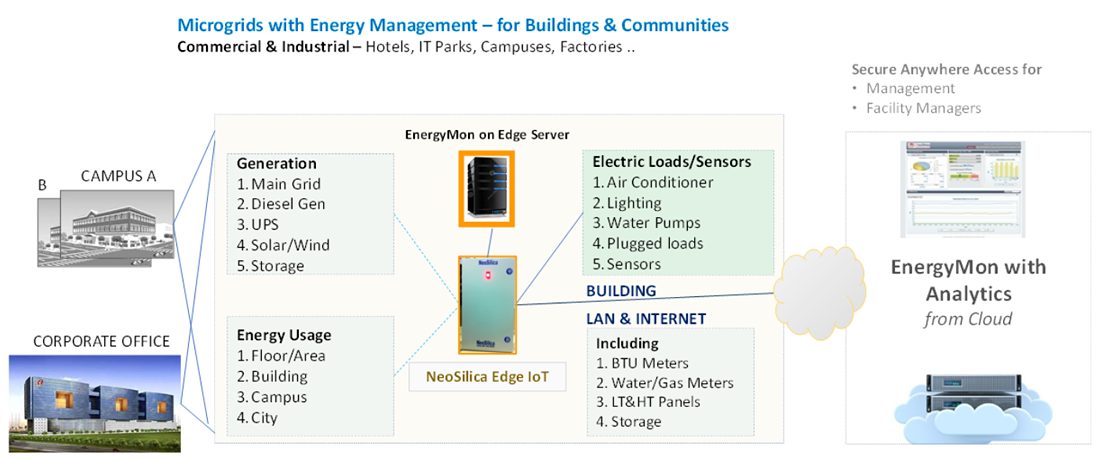 We offer extensive IoT, AI/ML, IT, and IT/OT integration experience and functional expertise to build advanced solutions for our enterprise RE customers – through their continuous global expansion, M&A, portfolio reorganization, and ESG initiatives.
Energy Management (EMS) for Buildings
CES NeoSilica's Edge IoT network interfaces in greenfield/brownfield for comprehensive data acquisition towards central/remote asset management.
Monitor, control, and manage major loads for efficiency.
Monitor, control, and manage local energy resources (DER) such as solar, DG, and UPS.
Manage EV Charging infra for efficiency.
Centralized analytics for all stakeholders.
EMS and Industry 4/5 for manufacturers
EMS to integrate DER and major generation – to build and meet efficiency targets.
Monitor and manage the Operational Efficiency and Reliability of industrial equipment and processes.
Smart Maintenance of critical equipment and processes.
Centralized analytics across all their plants.
Our Key Benefits

Digitalize assets and improve operational efficiency and reliability.

Modernize legacy technology with the latest IoT & Cloud.

Work through the roadmap for Net Zero.

Best in the breed of technology solutions and related performance services.
CES NeoSilica is committed to the future of your business. Let us partner to achieve your energy efficiency and net zero goals.