Continuing our insightful journey exploring environmental sustainability commitments with exemplary leaders, we now turn our attention to a global biopharma leader: GlaxoSmithKline (GSK). By recognizing the critical interconnections of climate, nature, and health, GSK showcases its commitment to building a net zero, nature-positive, and healthier planet. Let's delve into GSK's climate and nature targets and how it empowers businesses worldwide to adopt sustainable practices.
Mapping the Path to Net Zero Impact on Climate
"As a global biopharma leader, we want to play our full part in protecting and restoring the planet's health, in order to protect and improve people's health. Improving the environmental sustainability of our business makes us more resilient, so we can deliver the products that patients rely on."

Emma Walmsley, CEO.
Top five pharmaceutical companies by environmental sustainability metrics in their filings

[Source: Environmental Sustainability Ranking 2023]
To address environmental impact as a core mission, GSK sets ambitious climate and nature targets to mitigate risks. GSK aims to achieve 100% renewable electricity for its operations by 2025 (including Scope 2 emissions). By 2030, the company targets an 80% reduction in carbon emissions across all scopes. The remaining 20% will be addressed through investment in nature-based solutions, which help offset the environmental impact. GSK's goal is to achieve net zero emissions across its entire value chain by 2045, encompassing all scopes of emissions.
A) Priority Actions to Minimize Operational Emissions – Recognizing around 8% of its carbon footprint stems from its operations, GSK is dedicated to implementing targeted strategies for minimizing these emissions, which includes investing in renewable electricity, electric vehicles, and energy reduction initiatives.
Renewable Electricity – GSK is a member of RE100, committing to source 100% renewable electricity by 2025. In 2022, GSK reached 73%, an increase of 28% since 2020, by adopting various methods, including on-site generation, off-site power purchase agreements, and wind and solar energy investments.
Electric Vehicles – Being part of EV100, GSK plans to transition its sales fleet to low-carbon vehicles and install charging infrastructure at 100 sites. Currently, GSK has installed 435 chargers at 30 sites. This shift reduces tailpipe emissions and improves air quality and human health.
Energy Reduction & Eco-Design – GSK accelerates its energy reduction program by analyzing on-site energy consumption and identifying opportunities for efficiency improvements. To reduce environmental impact, GSK incorporates eco-design and green chemistry principles into developing and producing its medicines.
B) Value Chain Emissions – Approximately 92% of GSK's carbon footprint originates from its suppliers' and patients' use of its products. Identifying this, GSK is committed to collaborating with its entire value chain to mitigate carbon emissions with its structured engagement program with suppliers as a foundation for further progress.
Suppliers – GSK tackles supply chain emissions (29% of total emissions) through the Sustainable Procurement Program. Suppliers must act on carbon reduction, renewable energy, waste management, water conservation, sustainable sourcing, and greener API sourcing. From 2023, suppliers will be expected to disclose emissions, set 1.5°C-aligned reduction targets, and shift to renewable energy. GSK's Energize program collaborates with peers and nine suppliers committed to buying two terawatt-hours of renewable electricity. GSK joined the Sustainable Markets Initiative Health Systems Task Force, partnering with seven global healthcare firms to cut emissions.
Logistics and Carbon Credits – GSK is transitioning from airfreight to sea freight whenever possible, reducing emissions from logistics. Moreover, the company invests in high-quality nature protection and restoration projects to offset residual emissions, securing carbon credits with a focus on projects with positive co-benefits for nature and human health.
What does Nature Target mean for GSK?
The company prioritizes nature targets to mitigate risks from habitat degradation and deforestation. This includes the emergence of pathogens while ensuring raw material sustainability. GSK leads in setting nature-based goals that promote a sustainable future with clear targets on water, biodiversity, waste, and materials.
Water:
By 2030, lessen overall water use by 20%.
Be water neutral in own operations and with key suppliers in water-stressed regions by 2030.
Achieve good water stewardship at 100% of GSK's sites by 2025.
Zero impact Active Pharmaceutical Ingredient (API) levels for all sites and key suppliers by 2030.
GSK reduced operational water use by 5% overall in 2022 compared to 2021, with a 1% decrease in high-water stress areas. This translates to a 23% drop in overall water use and a 6% decrease in high water-stressed areas from its 2020 baseline. In 2022, all GSK facilities and 98% of antibiotic suppliers met industry requirements for safe discharges by the AMR Alliance.
Waste and Materials:
Achieve zero operational waste by 2030, including eliminating single-use plastics.
Attain a 25% reduction in the environmental impact of products and packaging by 2030.
Reduce waste from the supply chain by 10% by 2030.
GSK's Environmental Sustainability Ratings from Multiple Agencies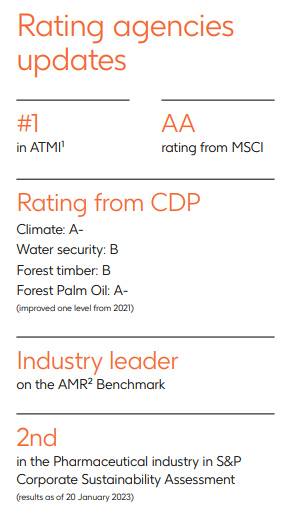 [Source: Rating by Multiple Agencies]
My Green Labs, the gold standard for laboratory sustainability best practices worldwide, has certified GSK's R&D facilities in Upper Providence. At some of its locations, GSK has eliminated the usage of disposable gowns, implemented new solvent recovery procedures and recycling for chemical containers, and removed the use of PVC and plastic in products.
Biodiversity:
Create a positive impact on biodiversity at all GSK-owned sites by 2030.
Sustainably source 100% of agricultural, forestry, and marine-derived materials, ensuring they are deforestation-free by 2030.
In 2022, GSK completed biodiversity assessments for 80% of its sites and commenced biodiversity uplift projects at three of its largest R&D facilities. It is addressing 12 critical agricultural, forestry, and marine-derived materials as part of its sustainable sourcing standard. GSK has reached 90% sustainable sourcing of paper and palm oil.
GSK invested in community-driven reforestation projects in Ghana, and mangrove restoration in Indonesia, covering 2,500 hectares. Additionally, the brand actively engages in the LEAF Coalition (Lowering Emissions by Accelerating Forest finance), supporting emissions avoidance measures in tropical and subtropical forests, and evaluates recommendations from the Voluntary Carbon Market Integrity Initiative to guide carbon credits.
GSK's comprehensive climate and nature targets showcase its deep commitment to environmental sustainability, leading the way for a greener future in the pharmaceutical industry and beyond.
CES NeoSilica: Your Strategic Digital Partner for Energy Transition, Digitalization & Net Zero
We offer extensive IoT, IT, and IT/OT integration and functional expertise to build advanced enterprise solutions through Digital Transformation, Renewables, M&A, and ESG initiatives. As the portfolio expands asset classes, we facilitate smooth scalability. NSoT, a one-stop digital energy platform, digitally tracks all direct and indirect carbon sources and helps optimize energy consumption, integrate renewable energy sources, and reduce operational waste. The platform offers a unified system view across your entire portfolio with the seamless alignment of all stakeholders to attain maximum performance and revenues.
CES NeoSilica is committed to contributing actively in critical areas to achieve UN SDG – for Clean Water & Sanitation, Affordable and Clean Energy, Industry and Infrastructure, and Sustainable Cities and Communities. Our experts can help improve enterprise sustainability targets and enhance efficiency. You can connect with us at cesneosilica for further consultation.
Sources: