With each passing day, ESG is gaining more attention as investors and consumers are increasingly drawn to businesses that prioritize sustainable practices. Companies look to ESG influencers and pioneers to start their own ESG journey. The technology giant Apple has been at the forefront of these efforts. Apple's 2022 ESG report provides invaluable insights into ESG goals, achievements, and impacts. After our first blog on ESG 101 series, our second blog explores key initiatives that can help your company implement similar environmental practices to reduce carbon footprint, conserve resources, and promote a sustainable business.
ESG: An Ambitious Goal to Begin with
Apple started its environmental initiatives in the 1990s, but the turning point came in 2013 with the appointment of Lisa Jackson, former US Environmental Protection Agency administrator. The company accomplished 40% of its objectives in 2022 under her oversight. This depicts how you can achieve real results when the goals are attainable, quantifiable, functional, and applicable across your value chain.
Apple's environmental statement precisely does that, which says: "Innovation at every step: Our commitment to becoming carbon neutral by 2030 drives everything we do. Every Apple product will be made with clean energy and even more recycled and renewable material. Because the earth won't wait, and neither will we." [Environment]
(A) Identify Your Focus Areas
First is to define your ESG objectives and specify short and long-term goals to achieve these objectives. After finalizing your ESG objectives/ goals, you ensure strict control during the implementation stage through proactive monitoring and tracking.
CES NeoSilica as a strategic digital partner plays a vital role in this process. Our NSoT platform provides digital tracking capabilities for measuring and managing companies' carbon footprint. This real-time visibility enables organizations to work towards their ESG goals. With NSoT technology and proven expertise, enterprises can effectively implement sustainability initiatives, ensuring continuous optimization and control of their environmental performance.
Apple has identified three key pillars of focus as part of its commitment: Climate Change, Resources, and Smarter Chemistry.
1.Climate Change
By 2030, Apple aims to:
Achieve carbon neutrality and Create products with net zero carbon impact.
Transition its entire product supply chain to 100% renewable electricity.
Key Findings on Climate Change based on Apple Press Release –
Apple has more than doubled the number of suppliers dedicated to using 100% clean energy to achieve carbon neutrality across its entire supply chain and product line. A total of 175 suppliers have committed to transitioning to renewable energy sources, generating over 9 gigawatts of clean power worldwide. These efforts are estimated to prevent more than 18 million metric tons of CO2e annually, equivalent to taking 4 million cars off the road yearly. A few examples of the successful projects are:
Corning Incorporated uses clean power from Duke Energy Sustainable Solutions' Conetoe solar installation in North Carolina to support Apple's renewable energy goals. The partnership aligns with its commitment to power all of Apple's operations with 100 % renewable energy.
Due to Montague Wind Power Facility in Oregon, among Apple's significant renewable projects, its carbon footprint has been reduced by 40 % over the last five years.
Apple's Supplier Clean Energy Program has gained considerable traction in China, with 50 suppliers actively involved and maximizing the utilization of on-site clean energy solutions. Additionally, 31 suppliers in India, Japan, and South Korea have joined the program, with substantial participation from SK Hynix, one of the pioneering Korean suppliers to commit to sustainability initiatives.
In Nigeria, the company is supporting a solar power system establishment. This initiative aims to provide sustainable energy to a primary healthcare center and 200 households in the surrounding area.
2. Resources
Apple wants to reach a point where it can:
Only use recycled and renewable materials in their products and packaging.
Enhance material recovery.
Eliminate plastics in packaging by 2025.
Reduce water impacts in manufacturing facilities.
Eliminate waste sent to landfills.
3. Smarter Chemistry
Apple is working to integrate smarter chemistry innovation into designing and building its products and avoiding exposure to harmful chemicals.
(B) From Design to Market
The common factor observed among ESG pioneers is their adherence to the product value chain. Product design teams collaborate with the ESG team to create low-carbon products. Procuring raw materials from recycled sources and manufacturing using low-carbon energy ensures responsible sourcing, minimizing freshwater use,
preventing toxic chemical usage & pollution, and eliminating waste across operations.
In 2021, Apple switched its carbon-intensive component to the M1 chip for the 13-inch MacBook Pro and now to the M2 chip. This single move helped reduce the energy needed for the chipset's manufacturing and improved the MacBook's energy consumption, reducing the product's carbon footprint by over 8 %. The brand also prioritizes 100% recycled aluminum in various product enclosures, achieving a remarkable 68% reduction in carbon emissions since 2015. These are ways to enhance energy efficiency throughout the product value chain.
As businesses realign or redesign their products to incorporate ESG principles, it is crucial to maintain an uncompromised end-user experience. Apple, for instance, utilizes recycled materials to produce their newer phones and tablets while prioritizing products with exceptional quality, durability, and world-class design aesthetics. By not only incorporating recycled materials but also adhering to stringent quality standards, Apple ensures that its products deliver a dependable and long-lasting user experience.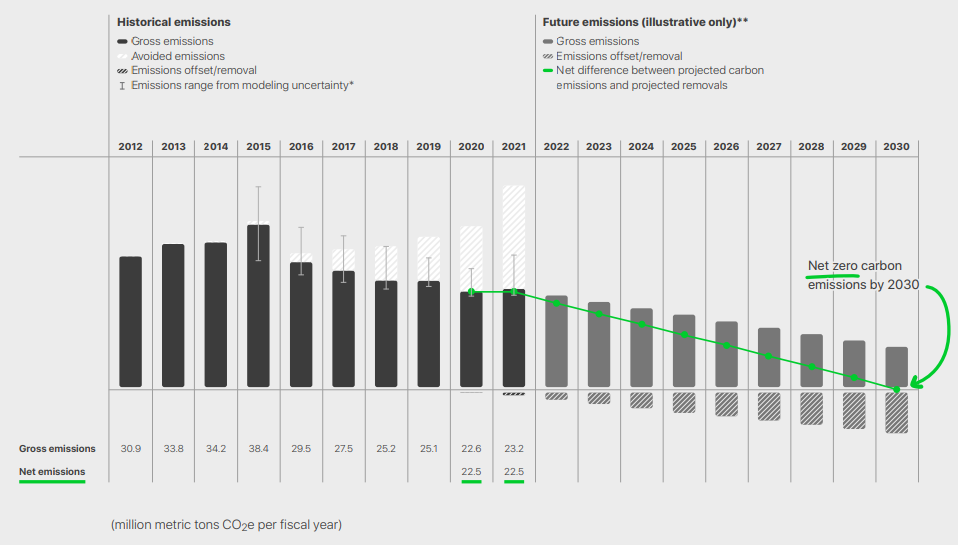 [ Source: Apple Environmental Progress Report 2022]
(C) Groom ESG Champions in Your Value Chain
Large organizations like Apple depend on an extensive network of suppliers & contract manufacturers upstream and dealers, shippers, data centers, and retailers downstream. This is where Scopes 2 and 3 of ESG require Apple to account for the carbon impact of its entire value chain. Some significant endeavors as how the brand is leading the charge for ESG –
Apple's periodic guidance is designed to help suppliers uncover opportunities for energy efficiency and investment in renewables. It launched the Supplier Energy Efficiency Program in 2015, which enabled suppliers to avoid over 1.15 million metric tons of carbon emissions in 2021.
The company announced that its manufacturing partners now support over 13 gigawatts of renewable electricity worldwide, representing a nearly 30 percent increase in the past year.
More than 250 suppliers across 28 countries have committed to using renewable energy for all Apple production by 2030. This denotes over 85 percent of Apple's direct manufacturing spend, showing a significant effort to transition to renewable energy sources.
Apple has invested $4.7 billion in Green Bonds, financial instruments to finance environmental projects.
Suppliers receive valuable assistance through Apple's Clean Energy Academy, which offers a range of free learning resources and live training sessions, enabling them to meet their commitments and strive for further sustainability goals.
Overall, Apple has tremendous influence in the market, with the speed at which they accomplish their ESG goals, influence the value chain, and raise a strong voice for sustainability with policymakers.
"At Apple, we're carbon neutral for our own operations and innovating every day to go even further in the urgent work to address climate change. With partners around the world, we're adding even more renewable energy to power our global supply chain and investing in next-generation green technologies. The scale of this challenge is immense — but so is our determination to meet it.", said Tim Cook, Apple's CEO.
Paving the Way for ESG Adoption and a Greener Tomorrow with CES NeoSilica
Apple's environmental impact showcases the transformative power of ESG initiatives, inspiring organizations to embrace sustainability, drive efficiency, and bring sustainable change. In this blog, we delved into the different facets of environmental impact and emphasized the significance of integrating ESG practices that prioritize climate impact and sustainable sourcing. Throughout, we gained valuable insights and guidance from Apple's environmental impact as a means to effectively navigate and progress along the ESG roadmap.
CES NeoSilica, a leading provider of DeepTech and SaaS systems, fully aligns with this vision, helping enterprises with energy transition and operational efficiency. Our commitment to supporting enterprise sustainability efforts conforms with the increasing demand for ESG concerns. You can leverage our digital solutions and expertise to assess your environmental impact, integrate seamless ESG practices, and build sustainable supply chains for profitability and a greener tomorrow. Connect with our experts @ cesneosilica for further information on this.
Sources: