From the desk of CEO: How CES has delivered IT services and fulfilled business needs for growth, efficiency, and compliance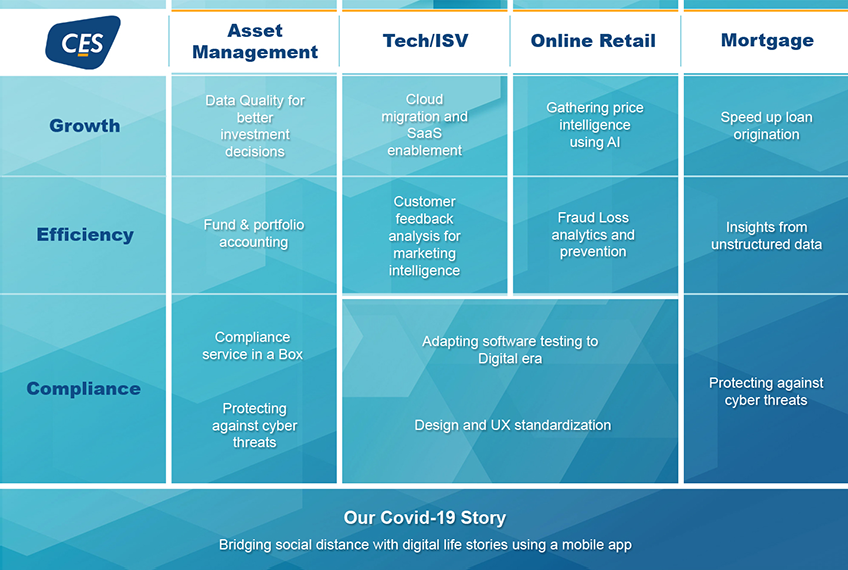 Growth, efficiency, and compliance are the perennial needs of any business. In any business, time is money and the key to growth is to make sure the business is always in lock-steps with on-going market trends ensuring effective use of time and money invested.
For CES, the last decade saw maximum activity in key industries like Financial Services, Ecommerce, and Technology. All these industries have had tremendous need for growth, efficiency, and compliance. CES has helped and played a major role for clients with our multi-pronged digital and KPO services which include:
Business process optimization and automation

Technology modernization and cloudification
Artificial intelligence and analytics
Below are examples of how CES has been helping our clients in the industries – Asset Management, Mortgage, Online Retail, and ISVs – with standardized or innovative solutions. For each of these industries, I will share our stories of success that enabled growth, efficiency, or compliance.
Asset Management
High quality market data helps Asset Managers make better decisions which in turn helps portfolio performance. Our Market Data services help asset manager make better decision using timely and quality data.
Large Asset Management companies handle high-volume and complex multi-currency transactions. CES developed a smart cross-platform automated accounts and cash reconciliation software that leverages technology to streamline reconciliation activities.
Ploughing through heaps of accounting tasks can be like untangling mathematical noodles. Handling financial operations requires highly skilled resources with domain knowledge. CES' Fund & Portfolio Accounting service streamlines, automates, and reduces inefficiencies in back-office processes leading to a higher operational alpha.
Mounting cost of compliance costs a business a pretty penny. But the cost of overlooking compliance could be a serious damage to company's reputation. CES provides end-to-end compliance and surveillance service to Asset Management companies by analyzing specific compliance risks, fulfilling regulatory requirements, and monitoring operational risks procedures within the firm.
The industry that deals with sensitive data is vulnerable to cyber threats. Data security is very important for asset managers. We have developed a cost-effective Vulnerability Management service to secure and protect business from cyber threats.
Technology/ISV Industry
With constant change in technology landscape and consumer behavior, there is a constant pressure on ISVs to stay current with change. CES is helping the ISV customers migrate to the cloud using a Cloud Migration blueprint that is based on Test Driven Development (TDD) strategies. In the process we help modernize their software by leveraging AI, machine learning, and mobile technologies.
Furthermore, an IT team needs to give its external as well as internal customers a good user experience. These days when digital products are available on various devices, it is important to maintain the brand experience across platforms. CES has worked on this scenario and provided client-specific solutions through standardizing design and UX elements of digital products and applications using a custom DLS (Design Language System).
CES has also built a social IQ framework for one of our customers using BI & Analytics. This framework enabled gathering intelligence on customer feedback for a product from across social platforms and be used for refining marketing strategy for the product.
Having no or minimal testing puts a business at risk. CES revived software testing culture and helped companies adapt testing methodology to the digital era and concepts to ensure better product quality.
Online Retail / Ecommerce Industry
The ecommerce industry is full of supplier driven action. To create demand and woo customers for a particular product every online business comes up with the most attractive product bundle and price structure. CES helps analyze various sites through web-crawling and aggregates data through automated routines and helps clients gain price advantage over competition. For customers in this Industry, CES also helps develop content and improve their customer service.
Then there are the fraudsters in online market. Most companies have willingly absorbed Fraud Loss as a cost of doing business. CES has been helping B2C businesses prevent fraud loss with its back-office service offering at a price that will not weigh down their pocket.
Mortgage Industry
The mortgage industry has many pitfalls in the loan origination process that slows down the loan fulfilment process and inhibits growth of the business. CES has been involved in speeding up loan origination processes for various money lenders through cost effective and back-office KPO services.
This industry also has the need to scan mounds of unorganized documents. CES developed an AI bot that could scan such unstructured data quickly and helped place operational information on fingertips of the executive for quick decision making.
We at CES not only see different industries as our service domain but the entire society at large as our stakeholder. In the year of pandemic, this belief found expression when we helped a customer in bridging the social distance with digital life stories using a mobile app.
As our customers' businesses and the demand for new solutions evolve in the coming decade, we at CES remain committed to continue serving the Industry and our customers with our practical, no-frills, and cost-effective solutions. For more information or a conversation on how CES can help with your growth, efficiency or compliance needs with flexibility and expertise, please contact us at sales@cesltd.com.