Building an effective and efficient market data acquisition and maintenance strategy for alternative asset management firms
Data: The precious new oil that drives investment decisions
The jargon – Data is the new oil – has been doing its rounds for some time, and today, more than ever before, data is a highly in-demand market information asset. Broadly classified into Market data and Fundamental data, data is a galaxy which is sourced, curated, and consumed by alternate asset management firms. Collecting pricing and reference data for securities, trades and other exchange published data is a task that involves focused and dedicated person-hours. Data related to company fundamentals, industry or sector specific key drivers, benchmark information, and other market dynamics requires specific skills and versatile experience in acquiring, storing, and processing it efficiently. This data is needed for back-office operations, regulatory compliance & reporting, as well as in the front office domain to identify market inefficiencies and trading opportunities.
Managing and delivering high quality data to stakeholders can be a Herculean task; CES shoulders the burden to help Asset Managers leap ahead.
Data quality is the key challenge
What octane rating is to oil, data quality is to data. These days there are many sources from where data can be obtained; finding and zeroing down on the best source is an exercise in itself. Structured and unstructured data formats sourced from the market require significant amount of work to be done before they can be used, since –
Data could be incomplete
Data received from vendors may have to reformatted
Data from two sources could be conflicting requiring a third source to validate
Data obtained may have inherent biases (for example, look ahead bias) causing inaccurate results.
Maintaining data is a lot harder than procuring data. Once data has been obtained, scrubbed, and made usable, there is a need for centralized storage and formal stewardship. The common problems with data maintenance most often are –
No clear ownership across business and IT
Data fragmentation leaves data siloed, duplicated or unusable
Inaccuracies due to manual intervention leads to operational and trading risk
High volume and frequency of refresh
Tracking and renewing data source subscriptions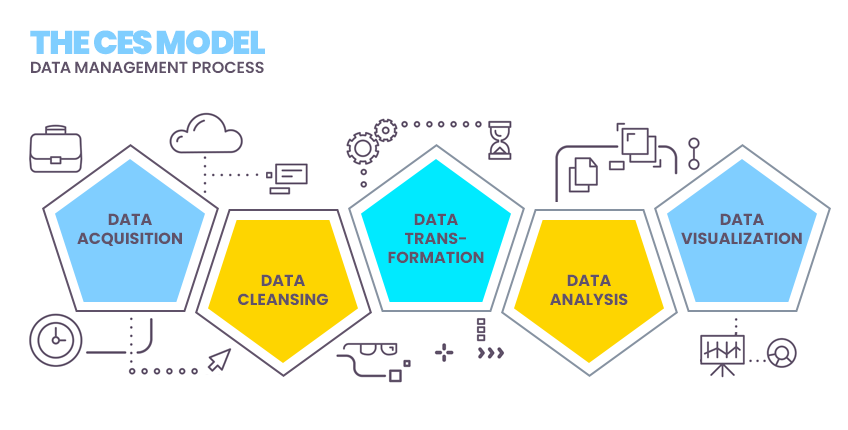 CES's KPO service offers a comprehensive solution
CES has developed a data lifecycle processing service to handle the different phases of the data lifecycle which can be a tough challenge if a company lacks resource bandwidth or is not equipped with the right skills. CES KPO team has well-trained and experienced data engineers who can implement and manage the entire process.
Our Data Management Process includes:
Data Acquisition
Data Cleansing
Data Transformation
Data Analysis
Data Visualization
Experienced data engineers at CES are system agnostic. The resources are experienced in both front-office and back-office support systems. We have developed proven automation tools and workflow driven model framework (Centipede) to shorten the processing time frames and eliminate friction in the process. We also help create new data models and data lifecycle frameworks based on customer's business requirements.
Our customers enjoy the benefits of clean data at a great price and thereby generate significant operational alpha.
Benefits of using CES specialists
With CES as a partner, customers get a whole bunch of benefits. First, it lowers the total cost of operations and data management significantly. CES can be an extended arm of the business team, working remotely, during off-work hours thereby making the data ready for asset managers when they come in to work the next day. We provide Level 1/Level 2 (16/5) support to customers and run hundreds of jobs daily. Our support engineers make sure the processes run smoothly by investigating issues as reported and coming up with quick remedies.
We at CES take the burden off our customer's shoulders when it comes to managing data. We streamline and simplify the process of compliance and data governance. We help centralize data (Database Administration) and automate complex business rules. With constant monitoring we take workload off customer's plate, and free up the time of Asset Managers so that they can focus on their core business activities.
CES offers complete end-to-end solution for data integrity and integration, and some additional solutions which are often sought by our customers include:
DBA services
DevOps support
Data quality assurance
Development in Python ecosystem
Other Services
We also offer additional technical services and expertise. Some relevant and related service offerings are: Compliance, Fund Accounting, Cybersecurity. For more information or a conversation on how CES can help improve data quality for better decision making and at the same time significantly reduce the cost of data related operations, please contact us at sales@cesltd.com. You may also be interested in the blog on our Compliance service: Checklists, Checkboxes, and Certifications: Compliance Service in a Box for Asset Managers.