A peak into a technology tool for the social savvy Chief Marketing Officer
Consumer data: A social currency
Over the last decade, social media platforms like Facebook, Instagram, Twitter, YouTube, etc. have fundamentally changed the way we interact with others in our personal and professional lives. Our interactions have become less social (in a traditional sense) and more digital, leaving behind troves of data that is up for grabs as a new currency. How effectively your business is banking this social currency?
Social media platforms make billions of dollars because we (consumers) cannot seem to get enough of "social dose" at every chance we get. Rightfully and consequently, brands need to be where their ideal customers hangout. Ten years ago, most of us would have been quite puzzled if someone introduced themselves as a 'social marketer'. Now earning an MBA in Social Media Marketing is a real deal.
The challenge for CMO
Unless your organization is lucky-enough to have a marketing budget that has 1 followed by 6+ zeros (i.e. over $1 million), you may not have a social media department and the latest (and expensive) social media measurement tools and business processes.
Understandably, then your social media monetization formula may look something like this:
Hand-pulled analytics data
+
Gut Feeling
+
Trial & error learning
=
Hope of maximizing ROI on social spend
Such a formula may do the trick for some and keep the ROI in a positive territory. However, there will be plenty of missed opportunities that should be availed. This is where CES can help elevate your social media game to the next level within your budget constraints.
A good solution does not have to be super complex or cost prohibitive. The CMO has help!
A tool with social sensibility
CES recently helped an ecommerce client develop a technology framework and tool for monitoring social media channels. Its Business Intelligence (BI) services division developed a configurable multipurpose tool to gauge consumer ratings for the client's products.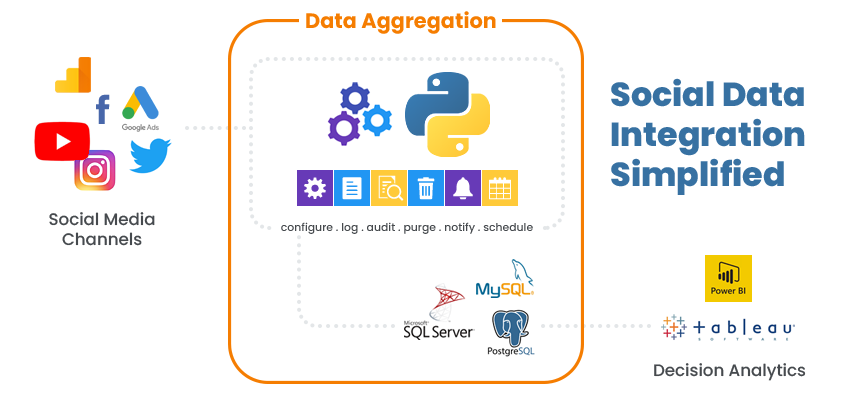 The easily customizable tool eliminated the need to manually log into different social media platforms like, Facebook, YouTube, Twitter, Instagram, etc. to capture needed data and insights.
A simple visualization layer made it easy for the business user – the product team – to gauge the market reaction and take appropriate actions.
This turned out to be an excellent tool for social media analytics, and in refining marketing strategy and measuring the outcomes. It helped the marketing team maximize ROI by running targeted promotions and offering discounts based on the market sentiment. One could say that the tool helped build Social Quotient of the product and the organization.
The tool enabled near real-time social analytics, centralized social data visualization, and aided in dynamic pricing/positioning of the products.
The technology stack used for this accelerator includes application interfaces, relational database, and data-visualization software. Consideration was given to open source technologies to save cost.
Other applications
CES' social media accelerators can be customized for organizations across different industries that rely on social media analytics in a standalone manner, due to budget constraints or otherwise. A customized tool can be hosted on the cloud and delivered in a SaaS model via a portal. It can further be enhanced to calculate Consumer Sentiment Score to gauge positive and negative reactions/comments to products/services of a company in the social media.
Please stay tuned for our future articles on how analytics for individual social platform can be enabled and leveraged. For more information or a conversation on how CES can develop BI systems to support your marketing and product teams, please contact us at sales@cesltd.com.